08 Episodios!


- CANCELADA -
Sinopsis:

Una serie sobre un pequeño pueblo de Minnesota que se esconde una resaca turbulenta debajo de su chapa de paz se abre con la llegada del recién llegado Henley Boone (Lauren alemán) el mismo día que un horrible asesinato se produce en el estanque local.Después de pasar años aterrorizada por una serie de secuestros sin solución, el pequeño pueblo de Haplin, Minnesota, más conocido como Happy Town, esta cerca de cumplir 10 años sin incidentes.

Pero cuando el pueblo sufre su primer crimen en siete años, algunos secretos son revelados.

Happy Town presenta un reparto muy interesante formado por Geoff Stults, Lauren German, Amy Acker, Dean Winters, John Patrick Amedori, Sarah Gadon, Jay Paulson, Robert Wisdom y Sam Neill.

La serie es producida por ABC Studios. Josh Appelbaum, Andre Nemec y Scott Rosenberg sirven como productores ejecutivos, acompañados por Gary Fleder, quien también dirigió el episodio piloto.

REPARTO: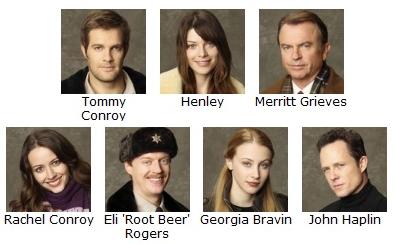 * Geoff Stults - Tommy Conroy
* Lauren German - Henley
* Sam Neill - Merritt Grieves
* Amy Acker - Rachel Conroy
* Jay Paulson - Eli 'Root Beer' Rogers
* Sarah Gadon - Georgia Bravin
* Dean Winters - John Haplin
* John Patrick Amedori - Andrew Haplin
* Robert Wisdom - Roger Hobbs



Info:

CALIDAD: HDTV
DURACION :40 MINUTOS
FORMATO :RMVB
IDIOMA : INGLES
SUBTITULOS : ESPAÑOL PEGADOS AL VIDEO
GENERO : |DRAMA | SUSPENSO
NUMERO DE EPISODIOS: 08 Y CANCELADA
PESO: 150 MB C/EPISODIO


TEMPORADA 01:



EPISODIO 01

"In This Home on Ice"


EPISODIO 02

"I Came to Haplin for the Waters"


EPISODIO 03

"Polly Wants A Crack At Her"


EPISODIO 04

"Slight of Hand"


EPISODIO 05

"This Is Why We Stay"


EPISODIO 06

"Questions and Antlers"


EPISODIO 07

"Dallas Alice Doesn't Live here Anymore"


EPISODIO 08

"Blame It on Rio Bravo"

SERIE CANCELADA: UNA LÁSTIMA, LA SERIE CADA VEZ SE PONÍA MEJOR PERO NO LA SEGUIRÁN..